Halloween is a fun and festive holiday no matter what age you are. We all love sweets and dressing up, but my favorite thing about Halloween is being able to play with my makeup to come up with creative costume ideas and mimicking favorite looks. To create certain looks, more than normal makeup is required and this sometimes makes the skin react. Here are a few skin-saving tips to remember before the ghoulish holiday.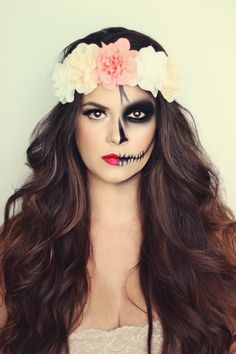 1. Test Your Makeup
Unless you are using cosmetic makeup that you already use, Halloween costume makeup can sometimes feel heavy and greasy on the skin. Apply on your skin before the actual day in case you have any sensitivity to the products.  According to online sources, be sure to use cosmetic grade beauty products like makeup and glitter. Even though you will have to apply more than you usually wear, it can be products your skin is already used and easier to remove at the end of the night.
2. Remove Your Makeup
Ah…one very important step to not forget. As mentioned, your face may be covered in a lot of makeup that you don't want to fall asleep in.  Make sure you use a good makeup remover or wipes to fully remove all traces of makeup to avoid blemishes or clogged pores.
3. Post-Halloween Skin Care
Ok so maybe you didn't spend as much time removing all traces of makeup the night before or worse — you didn't remove your makeup!  Add an exfoliation cream into your skin care routine to thoroughly remove dirt, oil and makeup from last night's events. This can help alleviate any potential skin break outs and revive the skin with a fresh glow.
These are just some Halloween makeup tips to consider. It's important to stay hydrated throughout the night and as always, enjoy your Halloween!