Yesterday marked the first official day of summer and as an esthetician, having the perfect sunscreen to protect the skin is more important than making sure I choose the cutest bathing suit for my weekend beach trips. You see, the sun is responsible for the vast majority of visible aging. It can lead to pigmentation, reduces skin elasticity and degrades the skin texture. But besides physical appearance, the sun can lead to skin cancer – one of the most common cancers in the United States. According to The Skin Cancer Foundation, the risk of developing skin cancer is directly related to the amount and intensity of ultraviolet (UV) light exposure one receives from the sun. However, one can limit excessive UV exposure and protect the skin with the use of sunscreen.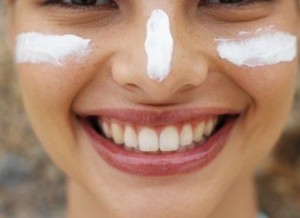 So what sunscreen should you be using? Going to the store can become overwhelming with so many different options to browse. Different sunscreens have different numbers – do you know what they mean? Here are a few things to consider when buying sunscreen:
Choose a broad-spectrum sunscreen – this means that it protects agains UVA and UVB rays.
Some skin care products already have SPF in them, and  this is sufficient for everyday activities with a few minutes here and there in the sun.
 However, if you work outdoors or are going to be doing outdoor activities for a longer period, it is important to add sunscreen with a higher SPF.
SPF – Sun Protection Factor – means the amount of time you can stay in the sun without getting sunburned.
The American Academy of Dermatology recommends both adults and children use a sunscreen with an SPF of at least 30.
Apply your sunscreen 30 minutes before any sun exposure to ensure that all ingredients bind to the skin.
Use enough sunscreen to cover your face, neck, ears, chest, shoulders and all areas that will be exposed to the sun.
It is noted that the average person needs about 1 ounce of sunscreen on the body.
Ocean water and perspiration wash sunscreen off your skin so choosing a water-proof sunscreen is important and remembering to re-apply as needed.
If you have oily or acne-prone skin, use a water-based sunscreen.
If you have sensitive skin, look at the ingredients and make sure to stay away from any sunscreens that contain para-aminobenzoic acid (PABA).
Choosing the right sunscreen for your skin can be confusing. But it really is a life and skin-saving factor that should be taken care of. If you have any questions regarding skin protection during the summer, come in for a consultation and take advantage of our summer sunscreen promo: All sunscreens are 10% OFF this month! I use and offer Image Skincare; these sunscreens range in SPF protection from 30-50 and come in a variety of finishes and application options to keep your skin healthy and happy.